Progressing Ballet Technique
Ballet Barre Workout
for teenagers and adults – not available at the moment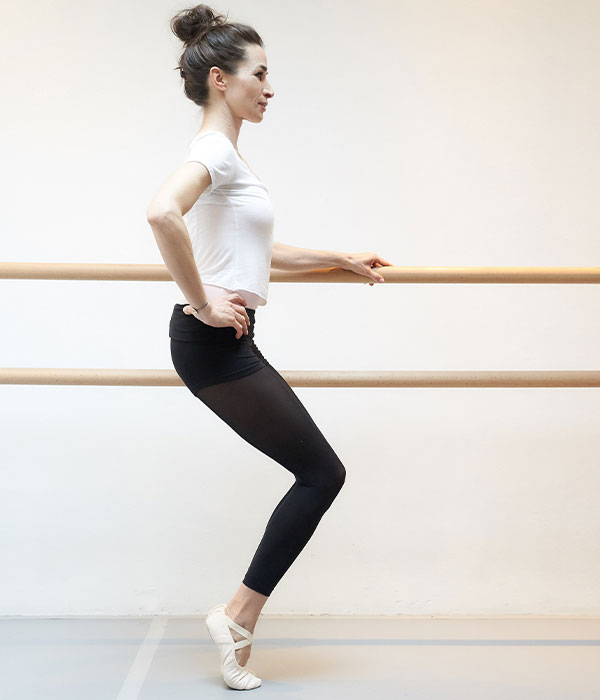 Dance Workout is as graceful as classical ballet, stretching like yoga and keeping the whole body fit like Pilates. The efficient and holistic training strengthens the entire body, ensures an ideal posture and a slim figure. You do not have to wait long for the first results. Special knowledge is not necessary.
The whole-body workout consists of selected ballet positions, steps and exercises that are easy to learn. Especially thighs, abdomen, buttocks and back are trained. But beware, the circulation is getting pretty lively!
Teacher: Magdalena Lonska 
Cost:
Annual card: 75 €/month
Please bring with you:
Tracksuit and socks or ballet slippers
Barre au Sol 
for teens and adults – not available at the moment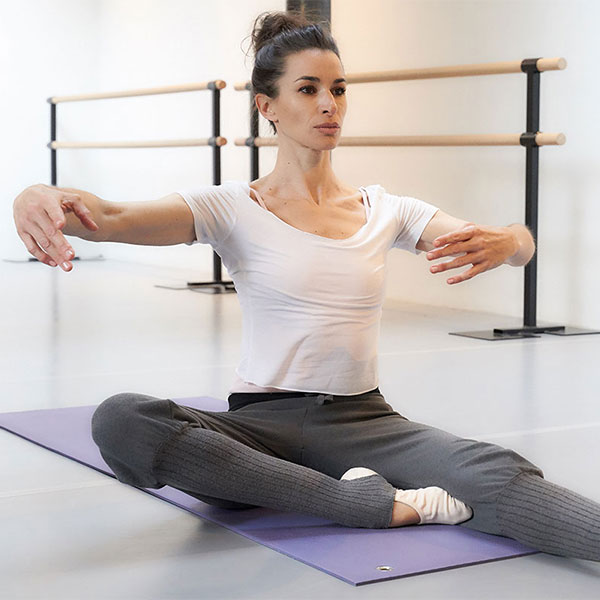 Barre au Sol is a special technique in ballet training where the exercises are performed on the floor. Advantage: The body is not busy balancing, but can concentrate on the exercises. Barre-au-sol training strengthens the entire body, stretches the muscles and improves posture. The exercises remain anchored in the muscle memory, so that they can be performed much easier even when standing.
Barre au Sol is an excellent base technique to prepare the body for a variety of dance styles.
Teacher: Magdalena Lonska 
Cost:
Annual card: 75 €/month
Please bring with you:
Tracksuit and socks or ballet slippers
Progressing Ballet Technique
for all age groups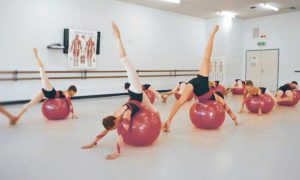 Progressing Ballet Technique is a cooperation with Cristina Ayllon.
The Progressing Ballet Technique (PBT) is an innovative program for body conditioning and strengthening developed by Marie Walton-Mahon to help students understand the depth of muscle memory training to achieve their personal best. One of the key elements of the PBT Method is muscle memory, which helps to improve students' understanding of core stability, weight distribution and alignment. Each exercise in the PBT program was developed with care and guidance by Marie Walton-Mahon together with a team of physiotherapists. Many professional dancers, trainees, ballet academies and dance teachers from all over the world have achieved great success with the PBT program, which integrates exercises into their regular classes. Due to their great adaptability and variety, they can be used in group classes as well as in private lessons / individual classes. It is an excellent option for preparing for exams and/or auditions. This unique, intensive and comprehensive reinforcement program is aimed at professional dancers, students and amateur adults. It is a unique program that adapts to age groups: Sub-Junior (5-7 years), Junior (7-10 years), Senior (11-14 years), Advanced (+14 years), Adults (+18 years). And it is divided into two modalities: PBT Classical Ballet and PBT Contemporary Dance. Defy the body, initiate muscle memory, improve alignment and stability, while increasing awareness of your own body to accelerate and encourage you to reach your full potential.
If you are preparing for auditions or exams, we offer private classes to prepare you. Improve your PBT technique to be better prepared. Classes are offered in English, French, Spanish and German. For further information please contact: cristinaayllon@outlook.com
Teacher: Cristina Ayllon
"At the barre-au-sol-lesson, which – as the name implies – we sit on mats sitting continuously or lying down, fine work is required. Isolated movements of parts of the body that either 'only do' well and shape the body or is also a perfect complement or preparation for ballet lessons."


 
"I've only recently started barre workout, in addition to ballet lessons and barre au sol. The workout is not completed like the other courses to classical piano music, but to modern songs. The exercises on the pole are quite crisp at the beginning, but also bring a lot for strength and figure. In contrast to the ballet variations, which are still difficult for me, you can join in immediately, Magdalena Lonska does every exercise and corrects it while still doing so. This is sweaty and depending on the level of fitness sometimes really hard – but sooo good! Then you know what you did and every time Magdalena manages to get a little more out of one."